Features
Consistent application regardless of temperature or viscosity
Easy-to-use interface
Totalizer: Track fluid use
Detect issues before they interrupt production
Technical Specifications
---

Fluid type(s):

Neat cupping lubricants for aluminum containers

---

Fluid supply:

(3 supply options)

Pressurized central fluid supply: 10-50 psi (0.7 0 3.4 bar)
Day tank, drum, or tote: storage vessel placed next to unit to pump from
Manual refill: Internal tank w/side filler cap

---

Fluid capacity:

Internal 8 US gal (30L) tank

---

Air supply:

Clean, dry, compressed air: 80-90 psi (5.5 - 6.2 bar). 25 SCFM (708 SLPM) minimum

---

Interface:

10.4" (264mm) color touchscreen

---

Fluid outputs:

---

Fluid output range:

---
Intelligent can stock lubrication
The Apex™ system for cupping press coil lubrication is an upgrade to Unist's proven Uni-Roller® technology and utilizes an electronically-controlled, positive-displacement pump to provide precise and repeatable volumes of lubricant to the coil. The positive-displacement pump is not impacted by changes in fluid viscosity which allows consistent application of lubricant regardless of ambient temperature. PLC-based controls allow for easy setup, troubleshooting, and monitoring of the Apex™ system both at the press and remotely using ethernet connectivity.
---
Critical info at a glance
The Unist Apex™ system displays all critical runtime information in one central location. The home screen can be used to monitor the system and troubleshoot issues.
Active monitoring
The Unist Apex™ system monitors all critical runtime parameters and alerts the user of potential problems and stops the press when critical issues arise.
Alarm history
The Unist Apex™ system displays a history of the previous 20 alarms for troubleshooting help and downtime diagnosis.
Manual setup
Manual control allows the user to easily perform regular maintenance and troubleshooting procedures on the Apex™ system.
Easy roller setup
Changing the amount of lubricant applied to the coil stock has never been as easy as it is with the Apex™ system's roller setup screen.
Totalizer: track fluid use
The Unist Apex™ system tracks total lubricant dispensed and can be reset to monitor lubricant consumed during a time interval of your choosing.
---
Consistent application regardless of temperature or viscosity
Easy to use interface
Totalizer: Track fluid use
Detect issues before they interrupt production
---
Active monitoring: Keeps you running
The Apex™ system features active monitoring to detect potential issues before they surface and an alarm history feature to view previous alarm states. A color touch screen interface displays all critical system parameters and makes adjusting the amount of lubricant on your coil simple. The Unist Apex™ system also tracks the total lubricant dispensed, making it easy to monitor lubrication costs.
---
Unrivaled precision
The Apex System's™ positive displacement pump means the Apex can deliver metered lubricant with unrivaled precision regardless of fluid viscosity.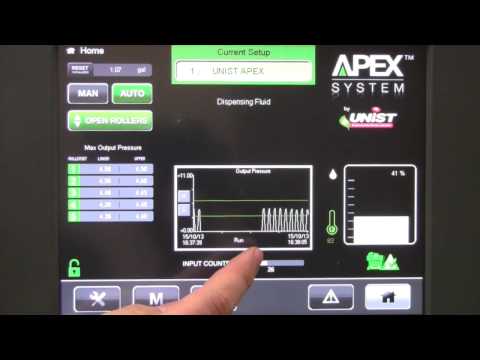 MF Minute #6
Discover the Unist Apex™ System in this Metal Forming Minute.