Features
Valve at nozzle tip eliminates messy drips
Immediate on/off spray control ( no lag )
Fine control of spray pattern
Individual air & fluid control
Air actuated
Available with internal or external mix tip
Technical Specifications
---

Fluid type:

For use with a broad range of water soluble and neat lubricants. Viscosity from 30 – 1000 SUS. Thicker lubricants can be tested by Unist for compatibility.

---

Air supply pressure:

30-100 psi (2-7 Bar) Dry, filtered compressed air

---

Fluid supply pressure:

---

Maximum cycle rate:

---

Operating temp range:

---

Body:

---

Needle valves:

---

Fittings:

---

Fluid seal material:

---

Air seal material:

---
Options & Accessories
Mounting
Articulating arm
Description goes here.
Adjustable magnet mount
Description goes here.
Modular mounting system
Create your own mounting solution with our modular mounting system.
Spray tip
Fan spray tip
The fan spray tip converts the Low Volume Spray Nozzle into a precision coating applicator. Multiple nozzles can be ganged together to cover wide areas with overlapping fan spray.
Conical spray tip
The Low Volume Spray Nozzle with conical spray tip provides the perfect spray pattern for spot lubrication or coating.
Extended nozzle
Allows the Low Volume Spray Nozzle to reach tight areas. Available in rigid copper or flexible plastic.
Adjustment
Standard adjustment
Adjust the fluid and air right at the nozzle
Remote adjustment
Adjust the fluid and air at the remote adjustment solenoid valve bank on the SPR-2000™ programmable fluid controller
Control
SPR-2000™
programmable controller
more
Versatility & Control
When you need precise control of your lubrication spray, the Unist Low Volume Spray Nozzle delivers with a consistent and controlled spray pattern. The air and fluid volumes are controlled independently by precision needle valves allowing you to fine tune the spray to your specific needs. An integral valve at the nozzle tip means our system features immediate on and off control which eliminates lag and prevents messy fluid drips.
---
Valve at nozzle tip eliminates messy drips
Immediate on/off spray control ( no lag )
Fine control of spray pattern
Individual air & fluid control
Air actuated
Available with internal or external mix tip
---
Internal Mix: spray dimensions
External Mix: spray dimensions
---
Control & Monitor Multiple Nozzles
Combine your Unist Low Volume Spray Nozzles with a Unist SPR-2000® programmable controller and pressure tank for precise control of spray frequency and duration.
The SPR-2000® is capable of controlling 22 independent Low Volume Spray Nozzles and monitoring critical parameters such as fluid level, fluid pressure, and flow and is a great choice for controlling your present and future stock lubrication systems.
---
Mounting options
Create your own mounting solution with our Modular Mounting System!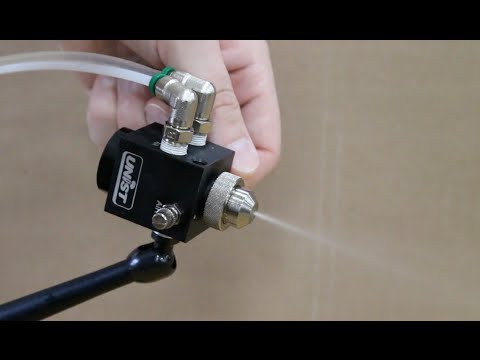 MQL Minute #8
Learn about Unist's Low Volume (LV) nozzle in this MQL Minute.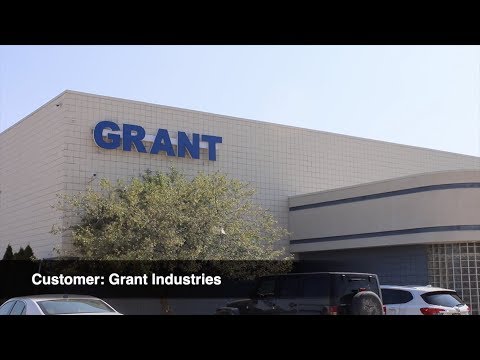 Testimonial Video - Grant Industries
Customer Grant Industries discusses their Unist Uni-Roller system.