Features
Reliable cutting tool lubrication
Portable design & comfort-grip handle
Ensures proper air motor lubrication
For oil & water-based lubricants
Built-in hose storage
Low pressure drop
Easy, external pump priming
Technical Specifications
---

Unist MV Pump Max Fluid Viscosity:

1300 SUS Max (1-drop pump), 500 SUS Max (2-drop pump)

---

Min/Max Air Pressure:

---

Unit Weight:

32 lbs (14.5 kg) approx - varies with hose length

---

Hose Length:

10 - 20' (3 - 6 M) - made to order

---
The Typhoon
™
provides lubrication for both the cutting tool and an air motor. Need a more compact package and only cutting tool lubrication?
Check out the Typhoon™ SP system.
Options & Accessories
Form factor
Typhoon™ SP
The Unist Typhoon
™
SP system features all of the improvements of the recently redesigned Typhoon
™
system, but in a smaller more compact package. The Typhoon
™
SP is used for applications where lubrication is only required for the cutting tool. It features the proven and efficient Typhoon
™
flow sensor and MV pump, but in a new rugged enclosure that is both more compact and lighter than the standard Typhoon
™
system.
more
Positive-feed drill lubrication
Reliable cutting tool lubrication
Portable design & comfort-grip handle
Ensures proper air motor lubrication
For oil & water-based lubricants
Built-in hose storage
Low pressure drop
---
Typhoon portable, automatic lubrication for aerospace drilling
The Typhoon™ is designed to keep pace with the demands of airframe drilling. The pneumatic positive and peck-feed drill systems used in these applications endure constant use and must deliver top performance in an industry where precision is critical. The Typhoon™ allows airframe builders to lubricate their drills and protect their air motors in one portable, mobile and productive unit.
From the instant you pull the air tool's trigger, the dual-output Typhoon™ delivers the proper amount of lubricant to protect both your cutting tool and the air motor. Its compact design, built-in hose storage, and ergonomic handle make the Typhoon ™ easy to transport and operate. Simple, independent adjustment of air and fluid flow rates means the system can provide proper lubricant for a broad variety of different cutting tools and materials.
---
The Typhoon™ system is engineered to integrate into operations where compressed air economy is a concern. It features a proprietary air flow sensor with minimal pressure drop to conserve compressed air and maximize tool power.
Easy adjustment of air & fluid rates
The Typhoon™ makes on-the-fly adjustments quick and easy with large, easy-to-read knobs for air and fluid.
Comfort-grip handle with integrated hose storage
Durable, comfort grip makes for easy carrying. The system's hose is easily wrapped around the unit and secured with built-in clips.
Fully-integrated flow sensor & air pilot valve
Flow sensor and an air pilot valve are integrated into manifold blocks improve serviceability. Manifold-mounted pressure regulator w/gauge controls air-flow to the cutting tool for increased accuracy and adjustment for different tool sizes.
Reliable positive-displacement pump
The Typhoon™ features Unist's reliable MV pump which is built to dispense a wide range of fluids and provide a long service life.
Durable, industrial design
Rugged design built to provide years of performance in tough conditions.
Now available: Typhoon™ SP
Same performance, compact package. Ideal for drilling in tight quarters (shown with standard Typhoon™ (left) for size comparison. )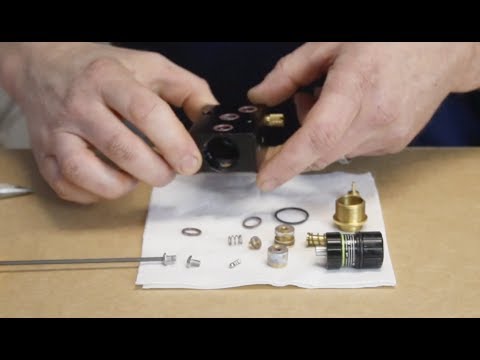 Rebuilding MV Pumps
Learn how to rebuild your MV (Multi-Viscosity) pumps.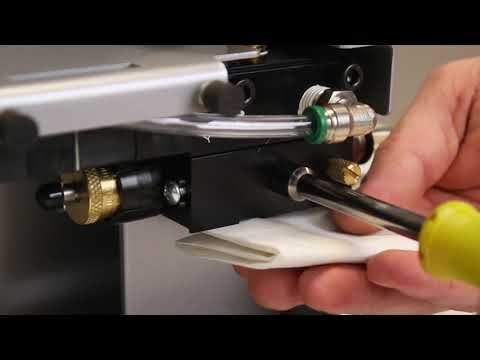 Priming A Pump-Based MQL System
In this how-to video, the procedure for priming a pump-based MQL systems is outlined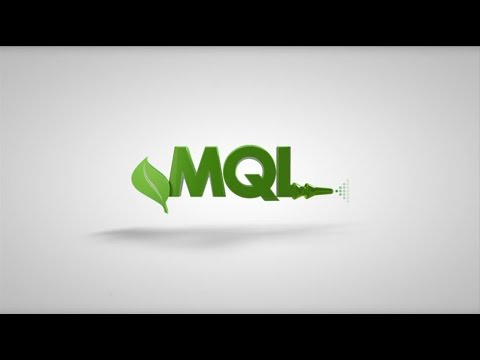 What is MQL?
An introduction to Minimum Quantity Lubrication (MQL).