Features
Cleaner presses & work areas
Even & consistent fluid application
Reduced fluid consumption
Decreased downtime
Increased production rates
Compatible with a wide variety of fluids
Technical Specifications
---

Stock type:

---

Stock thickness:

.002" - 0.10" (.05mm - .25mm)

---

Stock width:

---

Fluid type(s):

For use with vanishing fluid or low viscosity oil (oils from 30 SUS to 150 SUS). Not designed for use with water soluble lubricants.

---

Applicator material:

---

Fluid supply/capacity:

10 US gal (37L) ASME rated stainless fluid tank

---

Air supply:

Clean, dry, compressed air: 80-90 psi (5.5 - 6.2 bar). 25 SCFM (708 SLPM) minimum

---

Interface:

4-line x 20 character LCD with 21-button tactile membrane switch

---

Fluid outputs:

---

Control inputs:

2 (dry contact/switch closure, prox sensor 10-30 VDC NPN, N.O.)

---

Alarm inputs:

2 (dry contact/switch closure, prox sensor 10-30 VDC NPN, N.O.)

---

Outputs:

22 max at power supply voltage. Max power 10 watts/output

---

Alarm relay:

Isolated, non-fused single pole, double throw;
2 amp load max

---

Max input rate:

50 cycles/sec at 50% duty cycle. Minimum contact open or closed time: 10 milliseconds

---

Programmable ranges:

Count (CNT): 0-255 counts
Delay (DEL): 0-100 secs (.010 second increments)1 Duration (DUR): 0-100 seconds (.010 second increments)

---

Fuses:

Supply: 2 amp
Output: 5 amp

---

Operating temperature range:

0° to +50°C (+32° to +122°F)

---
Options & Accessories
Supply & Connections
In-die quick connect
Allows for permanent spray nozzle mounting to the die. Ensures nozzles remain in correct position with each die change.
more
Fluid Supply Systems
Your fluid application system needs a steady supply of pressurized fluid. Unist offers a broad range of options to meet your needs.
more
Proven precision & performance
The tab stock lubrication system uses the Unist Mini-Roller™ and is an ideal solution for lubricating narrow coils commonly used in tab making.
When the Mini-Roller™ is combined with the SmartFlow® controller, the Mini-Roller's™ patented internally fed design will evenly apply lubricant to both sides of the coil stock. Programmable control ensures consistent lubrication resulting in increased production and decreased downtime.
A cleaner press, reduced fluid consumption, and decreased downtime from inadequate lubrication are just some of the benefits of implementing the Unist Tab Stock Lubrication System.
---
Cleaner presses & work areas
Even & consistent fluid application
Reduced fluid consumption
Decreased downtime
Increased production rates
Compatible with a wide variety of fluids
---
Typical Tab Stock Lubrication installation:
---
Full-featured monitoring
The SmartFlow® provides full-featured monitoring of critical parameters such as fluid level, pressure and flow (optional sensors are required) and alerts users with an audible alarm and red LED. An external alarm relay can also be wired directly to a press control.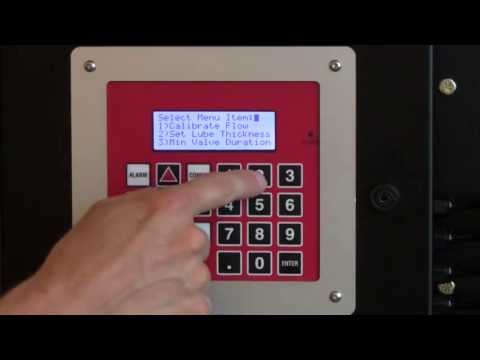 MF Minute #5
Learn how to create setups (jobs) in this installment of the Metal Forming Minute